Just a year ago, I purchased 2 jackets for my breed ensuring the size but the jackets didn't come with the ideal size. They could cover the backside of my dog. However, it was a waste of mine. After that, I researched Carhartt dog jacket sizing and figured out the ideal size jackets for different sizes of dogs.
So, before opening the wallet make sure to choose the right size. I don't want any of my viewers to face the same problem and today I am going to break down the best Carhartt Dog Jackets review. So, let's dig in. All of the dog jacket sizings are dependent on age and health.
The Carhartt Dog Jacket Sizing Reviews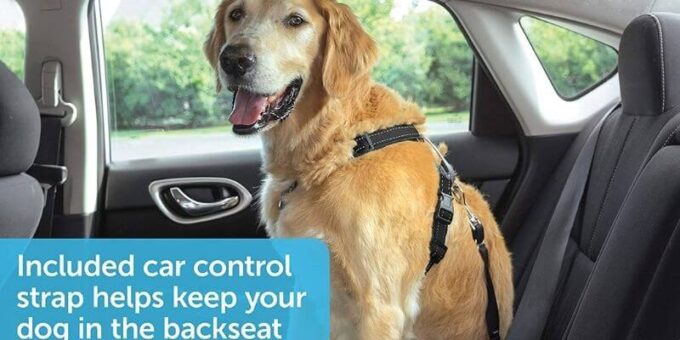 The Rundown
Best for Durability: Carhartt Pet Firm Duck Insulated Dog Chore Coat
"We recommend this one as the most durable and the main reason is the 100% ring-spun cotton crafting. Plus they are waterproof and no complaints have been raised against the sturdiness."
Best for Rainy Days: TRUE LOVE Mt. Dallas Winter Dog Coat
"The coat is 100% waterproof, windproof, and snowproof. So, you can walk your pups outside freely and let them enjoy nature!"
Best Overall: Carhartt Quick Duck Jac Jacket
"This one has all the highest quality, super affordable, and all mandatory facilities. It keeps pups warm and dry, durable, and available in different sizes."
1. Carhartt Pet Firm Duck Insulated Dog Chore Coat
First, on the list, we kept a highly durable Carhatt dog chore coat. If your priority is durability then you should opt for this coat closing your eyes. Gladly inform you that 12-ounce sturdy 100% ring spun cotton is the core material of the harness. Plus triple-needle stitching makes it even more durable.
We love the water-repellent coating which keeps it dry all day. Another plus point is quilted nylon lining. During the winter it'll create extra warmth. Moreover, for easy put on and off it works great.
Now let's talk about the hook and loop closure tab. Fortunately, they are fully adjustable. Your dog will always remain comfortable wearing the best.
Thanks to the manufacturers for making it machine washable. So, cleaning the coat is no more hassle. There are six colors available and 4 sizes. So whatever size your dog is you can always get them fit inside this coat. And the final noticeable thing is the two rivet reinforced pockets.
Though the jacket is full of positivity, we found a little issue. If your dog is super healthy then the coat may lack a little to cover the backside. Other than that this vest must be a great option for your dog.
What we like
Very durable crafting.
Water-resistant features.
Comfortable for dogs and easy to wear and put off feature.
What we don't like
The vest may miss covering the backside of a super healthy dog.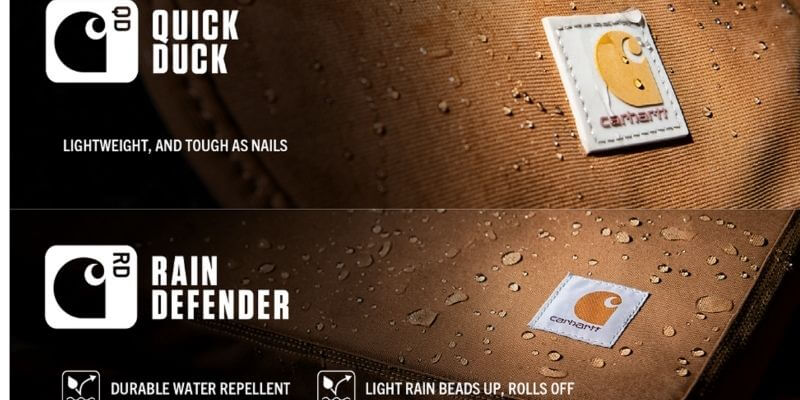 2. Carhartt Pet Harnesses
Our next product is a Carhartt dog jacket camo. This Carhartt neoprene dog vest helps to keep your pooch warm, secured, and protected. The vest has sturdy construction with soft inside padding so your dog will feel comfortable to give you company outdoor.
The dog vest is polyester stretched woven with a padded material. Plus, it has a super durable stretch liner to adjust on the pooch's body. The jacket isn't bulky at all, quite lightweight.
It has a D-shaped ring for easy leash attachment, so you can take your pooch for a morning or evening walk with you. Moreover, the hook & loop shoulder with back closure helps to ensure a perfect and ideal fit on the pup's body.
Inside of the jacket, 3mm Neoprene assures the comfy and warmness of the pooch. Check your pup's size before buying this one. Dimension of this vest is, Chest(26″-29″) x Neck(16″-20″) x Waist(23″-26″).
What makes this jacket extraordinary is, the handle hole. You can grab those handle holes easily if your pooch falls in water or any other accidents.
What we like
Comfortable and adjustable fitting for a medium to large-sized dogs.
Gives enough warmness in the chilly weather.
Loopholes for perfect and adjustable fitting.
Leash hole system for outdoor usage.
What we don't like
Not for small breed pups.
3. Carhartt Quick Duck Jac Jacket
For those dogs who go to work regularly with their owner, this Carhartt dog jacket on amazon is the ideal one. For chilly or gloomy weather, this dog vest is suitable for both. It assures you to keep your pup dry even when they jump into snow or rollover grass.
The jacket is made of water repellent and wind resistance 100% ring-spun cotton. Plus, the micro-fleece lining helps to give enough comfort and warmness. The Stretch panel of this vest helps to ease movement for a whole day.
Carhartt Quick Duck Jacket has two pockets. It looks super stylish as well as useful. The reflective silver trim lining helps to track the dog even in low-light situations. Outside of the jacket is made of rugged-500 nylon which is super sturdy and protects pooch from any accidents.
Like Carhartt Pet Harnesses, this one also has a handle hole. With this handle hole, you can easily grab your pup if it falls. Inside fleece provides enough warmth and coziness.
The vest is available in different colors, so you can choose as you want. Just as color, it also comes in different sizes. Chest(22″-28″) x Length(16″) x Neck(18″-23″).
What we like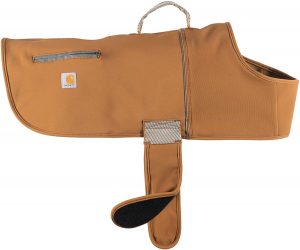 It's super lightweight, so pups don't feel heavy or bulky.
Available in different sizes for different breeds.
Keeps pup dry in any kind of weather with fantastic materials.
Helps to track the pooch in dim light with the reflective lining.
What we don't like
Doesn't have a leash hole
4. Didog Reflective Dog Winter Coat
This is a dog vest suitable for small breed dogs to large breed dogs. Unlike Carhartt Quick Duck Jacket, this one has a turtle neck with all mandatory features and the highest quality.
Putting on and taking off this vest from your buddy's body is quite easy and the pooch doesn't feel uncomfortable. It has velcro under the chest, so pups don't need to lift their legs while putting on or off.
The outside part of the jacket is made of nylon material which is waterproof, snowproof, and windproof. So, don't worry if your pups jump into the snow. Let them enjoy it!
The inside of this jacket has a layer of polar fleece which is super soft to touch and keeps the pup's body warm in bad weather. The reflective lining of the vest helps to track the dog into the dark.
The vest has a leash hole at the back, so you can walk them outside in rainy or cold weather. One of the outstanding features of this vest is, at the hind legs there are elastic belts, so the jacket won't blow away by the wind.
What we like
Allowed to wash in machines, so no hassles.
Leash holes to walk pooch outside.
Ensures to keep pups cozy and warm.
Available in all sizes so no worry.
What we don't like
5. Kurgo Dog Jacket
Some jackets in the market only cover the body but don't ensure the safety of pups and some ensure safety but don't keep pooch warm. If you are facing this problem, then Kurgo Dog Jacket can be your savior.
This vest can secure your pups in good protection and keeps them warm and dry in bad weather. Even if you go hiking with your pup, you can make them wear it and be tension-free.
The jacket is made of fleece with 10oz fleece lining, so already can understand how soft and warm it will feel. It has a 2-way zipper that allows easy access to your harness attachment.
Like Dog Dog Winter Coat, while wearing this your pooch won't need to lift its legs. Plus, it has another zipper at the neck side for easy fitting adjustments.
This dog vest is very suitable for any size of dog. So, please measure your dog before purchasing one. Moreover, you can wash this vest in the machine.
What we like
Very lightweight, so pups don't feel loaded.
Adjustable loop closure for comfortable fitting.
The machine is washable, so no hassle.
Can be suitable for all breed dogs.
What we don't like
Doesn't super waterproof.
6. TRUE LOVE Mt. Dallas Winter Dog Coat
This snuggly dog jacket from the TRUE LOVE is true love. This fantastic black colored dog jacket is waterproof and windproof. The coat has a velcro closure so no hassle of putting on it.
The neck of this coat has an elastic band, so it keeps snugly with the neck area and prevents entering cold air or water into the pup's body. The elastic isn't too tight to suffocate the pup.
The outside of this jacket is made of water repellent and windproof materials and inside it has a layer of fleece which ensures it keeps pups cozy. The faux fur at the neck area also keeps them warm and comfortable.
It has leg loops and extra fabric to the back and hind leg area of the pup. The fabric prevents the jacket from flapping or being blown away. It will fit any size of dogs from big bulky dogs to skinny dogs.
This jacket has 3M reflective lining on all sides, so you can track pups even in dark. You can wash the jacket in the machine and dry it quickly.
What we like
Adjustable neck and chest area to fit any dog.
Faux-fur at the neck area keeps the pup cozy.
The elastic neck area prevents snow or wind from entering the body.
Has extra fabric in the hind legs area to keep the jacket in place.
What we don't like
Doesn't have a leash hole.
7. ASENKU Dog Winter Coat
Make your pooch look super fashionable and adorable with this ASENKU Dog Winter Coat. This plaid snowcat has all the fantastic useful features and the most fashionable look. It can keep your pup both safe and warm.
The dog coat is made of cotton and inside it has a thick layer of fleece to keep your dog super warm and comfortable. It has a cute hat to keep your dog warmer and it looks super cute on any dog. The hat is detachable.
On the upper back of the jacket, there is a small hole to use a harness. So, it's very perfect for outdoor usage. Walk your dog outside feely!
It has elastic edges, so it prevents cold wind or snow from entering the coat. Plus, the jacket has plastic button snaps to adjust the coat snuggly.
You are allowed to machine wash the coat and dry it naturally. The coat has two pockets which are very convenient to put small treats or any other things.
What we like
It fashionable look so the pup looks super cute.
Detachable hat for 2 different fashions.
The thicker layer of fleece keeps the pup warm.
Suitable for an outdoor walk with the leash hole.
What we don't like
8. Kouser Cozy Waterproof Plaid Dog Vest
One of the exceptional dog coats on my list is from the Kouser. This dog vest offers both style and function. It's a reversible dog vest which means this can be worn in two styles.
The inside of the jacket is warm plaid material and the outside of the jacket is water resistance and wind-resistant material. The collar gets snuggly with the pooch's neck.
It has an easy hook & loop closure for easy putting on and taking off. The elastic chest design helps to fit any size of dog skinny or bulky.
Plastic button snaps help to adjust the jacket properly and stay in one place. The coat doesn't have any leash holes to attach leashes.
The jacket is super lightweight and keeps the pup comfortable & warm. It's suitable for small to medium to large size dogs. The sizes are from XS, S, M, L, XL, XXL, 3XL.
What we like
The various sizes of this jacket fit any size or breed of dog.
Super lightweight doesn't feel bulky.
Very easy to put on and take off, so no hassle.
2 sides can be worn with comfort.
What we don't like
Doesn't have any leash hole.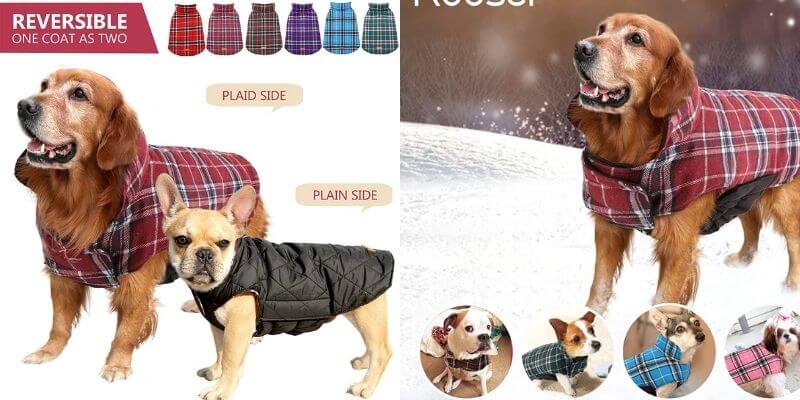 9. Gooby Sports Dog Vest
Small pup owners, huddle around! Gooby Sports Dog Vest is specially designed for small dog girls and boys. This one is ideal for indoor or outdoor usage.
Your small pup will be satisfied by the warm and cozy feeling of this coat. I would love to mention some outstanding features of this jacket. It's water-resistance and retains heat.
The outside is made of 100% nylon with a water resistance system and inside it has a thick fleece layer for the utmost warmness. Moreover, it has a hook & loop closure to adjust to the chest area.
The dog jacket looks super cute, gives ultimate comfort, is lightweight, and doesn't get soggy with snow or water. Plus, this one has the facility to attach a leash for outside walking.
The most exquisite feature of this coat is, the pooch won't make the vest dirty if they need to pee as it has cut at that area. So, you won't face the washing hassle for this potty or pee problem.
What we like
Washable in the machine, so no hassle.
Super affordable price, so anyone can buy.
2 D rings to attach leashes securely.
Fleece vest lining helps the dog to keep warm.
What we don't like
This one isn't suitable for larger size dogs.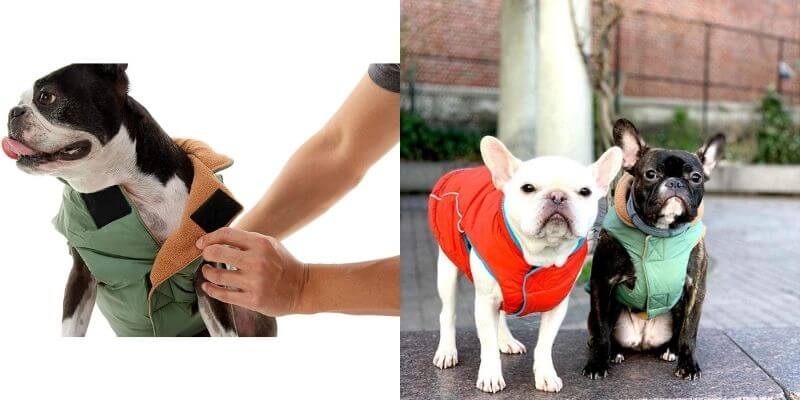 10. Embark Pets Wax Dog Jacket
The last product on the list is from Embark Pet. To ensure a warm and cozy feel for your dog this one is the perfect jacket. The interior of the jacket is lightly filled with quality cotton which holds temperature inside the jacket. No question should arise about durability as it is made of 75% waxed cotton and 25% waxed polyester.
The most advantageous fact is that cotton is water-resistant. However, during heavy rain, it might get wet. We found the adjustable velcro strap much beneficial. It ensures easy to put on and off. Another great thing is the collared neck.
You'll get the jacket in 4 different sizes but there is only one color available – brown. However, keep in mind if you have a large breed this product is not for them.
What we like
The materials combination is great to provide long-lasting performance.
Ensures coziness and warmness.
Attractive design.
What we don't like
Only one color is available.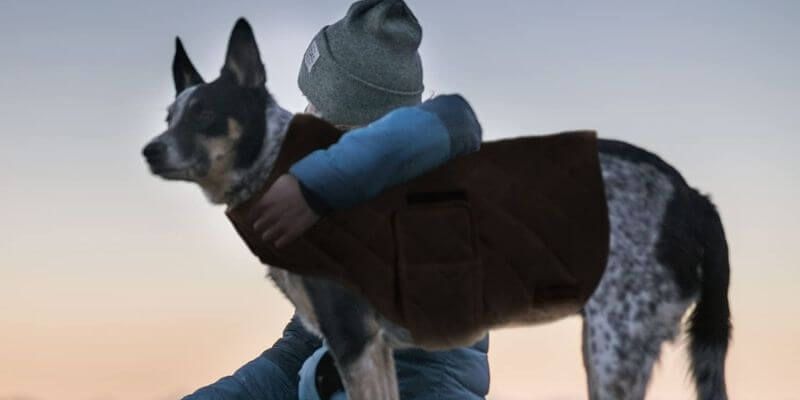 Buying Guide for Carhartt dog jacket sizing
In this segment, I am going to discuss a complete guide for the Carhartt dog jacket. It's necessary to read to select an appropriate jacket for your dog. So don't skip. Read another dog jacket with its review article, Best Duluth Dog Jacket Reviews.
Carhartt Dogs' Accessories Size Chart
Follow some of the best things before but any dog coat like lug gear, Carhartt, and more.
1. Sizing
The first thing you should consider is the size of the jacket. Most of the Carhartt jackets come in different sizes-small, medium, large and extra-large. You should be very sincere while choosing one. It's better to ask the manufacturers which size will be ideal for your dog by informing them how big your breed is.
2. Material
A jacket can be made of different materials such as cotton, fleece, nylon, and others. But as a core material cotton would be a good choice along with nylon lining. It will keep the dog comfortable as well as warm inside the jacket.
3. Waterproof & Windproof
Other 2 features you should consider while purchasing one. You don't know how many times the dog will mix up with water. So, it is necessary to purchase a waterproof jacket.
When you are in a cold region then the wind can be dangerous for the dog. So, to avoid it even at the slightest, a Windproof jacket will be a great option.
4. Others
There are some other things available you should consider before purchasing such as cozy feel, easy put on and off, washability, comfortability, price, etc. Make sure not to buy any ultra-cheap or excessively expensive jackets. Try to get a brandy jacket with positive customer reviews.
Frequently Asked Questions
Q: Are Carhartt dog jackets warm?
A: Yes, most of the Carhartt dog jackets are made of quilted nylon lining which keeps the dogs warm and brings a cozy feel. Besides, most of them are waterproof and windproof. We have already discussed 10 Carhartt dog jackets in Canada and all of them protect from cold. In the review, you can learn more about how they keep the dog warm inside Carhartt dog chore coat green.
Q: What size coat should I get my dog?
It depends on the dog size. To get the appropriate size measure the dog's back Leng to the base of the tail. The measurement should be done from the back of the neck. Also, get the measurement of the truth as it is the widest part of the dog's chest.
According to the measurement choose the right size jacket. No need to worry if the sizing doesn't match properly because coats are adjustable. But to ensure proper sizing choose one close to the dog size.
Q: Does Carhartt make dog jackets?
A: Yes, Carhatt produces dog jackets and they have a good collection of jackets. In this article, I have already explained a few Carhartt dog jackets. Have a look at the products to learn in detail.
Q: Does Carhartt make small dog collars?
A: Yes, Carhatt produces different pet accessories including small dog collars. They made the collar using nylon webbing with duck canvas weave for ensuring durability. Moreover, they are pretty lightweight.
Q: Are Carhartt jackets true to size?
"Is Carhartt true to size?" Is a very common question and the answer is yes. I have tested few jackets for my dogs and I found them true to size.
Final Verdict
We are long away from the start and now I have successfully introduced Carhartt dog jacket sizing by explaining Carhartt dog jacket reviews.
Now it's your time to explore them and choose the perfect one for your breed. Again if you ask to mention one single jacket among the ten then, I would love to suggest Carhartt Pet Firm Duck Insulated Dog Chore Coat if you want a waterproof warm jacket. That's all for today, wishing you luck with your next purchase.