Eating from floor-level cat food bowls may lead flat-faced breeds to serious health issues. The cat's stomach may push towards the chest, and this way, digestion problems can arise. In this case, you must provide the best-elevated cat bowls to your kitty.
Elevated cat food bowls help to improve the digestion process of your kitty. Also, your cat can easily get fed from raised cat dishes. Moreover, elevated cat feeders are beneficial for cats who can't bend their neck or have back pain or arthritis.
Why Should you Use the Best Elevated Cat Bowls?
An elevated cat bowl provides a better position for eating. As a result, the digestive system works properly when your kitty eats from a raised cat dish. Since your cat takes food following the semi-standing position, gravity helps food get down into the stomach effortlessly.
If your cat feels a problem when swallowing food due to back pain, esophagus, neck problems, or other medical issues, elevated design helps them swallow the food easily.
The 10 Best Elevated Tilted Cat Bowls
All the reviewed elevated tilted cat bowls are made from food-grade materials. These bowls are lightweight and durable too. So, buying any of the items would be value for money. What are the best-elevated bowls for cats? Check out here!
Finding the Best Elevated Food Bowl for Cats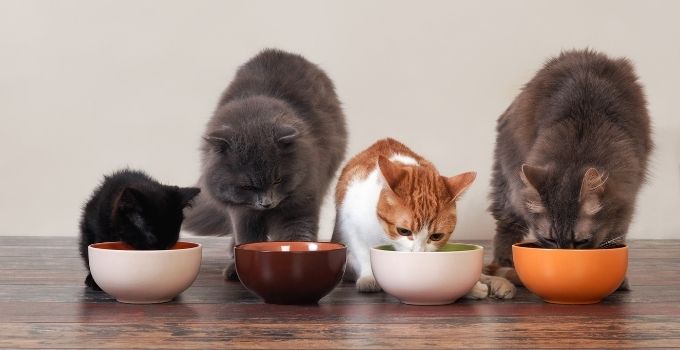 Do you prefer food-graded metal dishes for your cat? Then don't look further; buy the PetFusion Elevated Cat Bowls. Your pet's mealtime will be more comfortable with these bowls. It comes with a modern design that easily fits your kitchen cabinetry due to its compact size.
The stand is made of bamboo, which is covered with 3 plies of a water-resistant seal. It is 4" high, making it suitable for small cats and dogs. Moreover, an 8" high stand is also available for tall pets. Also, the stainless steel raised cat bowls securely fit into the frame openings and are easy to remove.
Additionally, it has anti-slip feet that prevent slippage. The bowls are waterproof, rust-resistant, and easy to clean. They look shiny every time after cleaning. Moreover, the bowl insets prevent the splitting of food outside the bowl.
Specifications:
Material: Stainless Steel, Bamboo
Product Dimension: 16" X 8.5" X 4.38"
Weight: 2.95lbs
Target Species: Cat & Dog
The Good:
Modern design gives it an aesthetic look
Stainless steel construction makes it a rust-proof item
Super easy to clean
Suitable for dogs and cats
Water-resistant and rust-proof
The Bad:
The wood can get damaged if exposed to water too frequently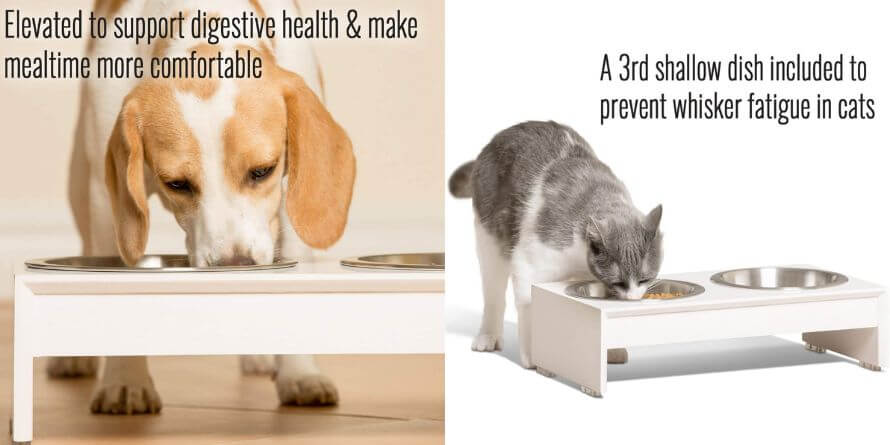 The cute cat ear shape design of the Lepet Elevated Dog Cat Bowls will surely put a smile on your face. It comes with two ceramic bowls and 2 stainless steel bowls. You can store additional 2 bowls inside the frame quite easily. Moreover, it is compact and can be stored in a kitchen cabinet with ease.
The natural bamboo frame and delicate cat sculpture construction give it an elegant look. It is well-constructed with no moving parts, which means it remains sturdy forever and fits perfectly with your kitchen home décor.
On both sides of the frame, you will find 2 polished handles, making it an easy-to-carry cat bowl. You can clean the bowls using a dishwasher without any hesitation. At the same time, the bowls are microwave safe; when you need to warm the food in the microwave, you can do it conveniently.
Specifications:
Material: Bamboo, Ceramic, Stainless Steel
Product Dimension: 15.43" X 9.06" X 6.85"
Weight: 3.88lbs.
Target Species: Cat & Dog
The Good:
Promotes digestive healthy
Easy to eat and drink
Suitable for pets with arthritis
Beautiful and eye-catchy decoration
Cute car ear shape design
The Bad:
A bit smaller than its rivals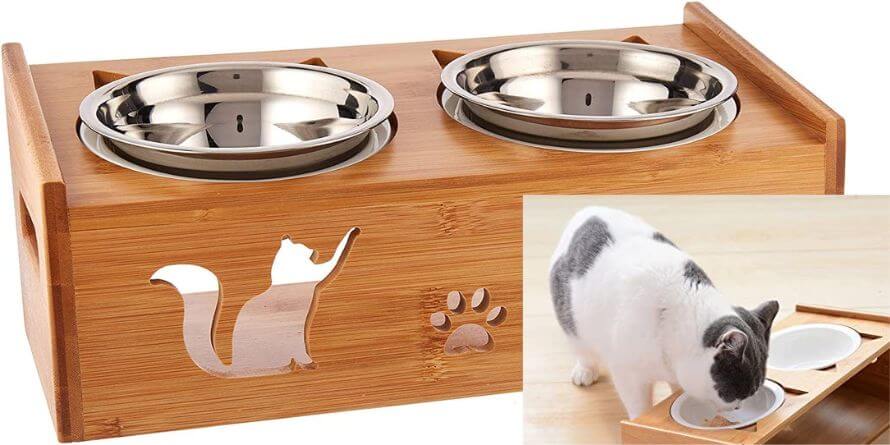 Are you looking for the best cat bowls for messy eaters that an eco-friendly pet bowl? Buy the Smith Chu Premium Elevated Pet Bowls that promote the healthy digestion of your pet.
The sturdy frame holds 3 ceramic bowls, which are easy to clean. Now, you will never be able to make the floor messy with these cat bowls. It is food and water bowls with a feeding station to start taking food or water. If you have any messy eaters hence the best cat bowls for messy eaters.
The bowls are easy to remove, allowing you to fill them with different food items and water for your pet. Hence, you don't need to move the whole unit. It is designed in such a way that the feeding area remains very organized and clean.
More importantly, the ceramic bowls are radian-designed, reducing food waste. Additionally, the holder is 15° bevelled, supporting the pet's digestive system. At the same time, leaning so far to eat is totally unnecessary. The frame's surface is waterproof, and dampproof, ensuring the longevity of the product.
Specifications:
Material: Ceramic, Bamboo
Product Dimension: 21.5" X 9.1" X 7.6"
Weight: 4.75lbs.
Target Species: Cat & Dog
The Good:
Helps prevent the regurgitation of food
Keeps the feeding area neat and clean15° bevelled design
Supports pet's digestive system
Eating becomes convenient for pets with these bowls
The Bad:
Ceramic bowls are too much fragile
Simple design and functional – these 2 words perfectly combine with the Petsiogne Cat Bowls. It is scientifically designed and comes with perfect height, making it easier for your cat to ingest food and water. Also, if you own more than one pet, it will definitely meet the demands.
Solid bamboo wood construction ensures the durability of the product. It is practically and generously designed to give long-term service. Eating becomes more comfortable due to the higher oblique stand. More importantly, your cat will always have smoother swallowing.
The frame is loaded with lead-free bone China ceramic. The bowls are safer for your cat and easy to use. Also, the bowls are narrow enough to make it easier for your cat to eat without whisker fatigue. In addition, thanks to the slightly slanted design, your pet will keep his neck and body straight when eating.
Specifications:
Material: Ceramic, Bamboo
Product Dimension: 23.62" X 10.0" X 5.12"
Weight: 10.63lbs.
Target Species: Cat & Dog
The Good:
Sturdy frame, made of solid bamboo wood
Offers long-lasting performance
Lightweight and portable
Functional and practical cat food tray
The bowls are placed firmly on the stand
The Bad:
The water bowl cannot hold much water
Does your pet mess a lot when eating? The Neater Feeder Express Elevated Cats and Dogs Bowl would be the right solution for you as it comes with mess proof design. In order to keep the feeding area clean, spilled food stays at the top. On the other hand, the spilled water drains into the catch basin below.
Since spills and mess are less, you don't need to spend too much time cleaning the feeding area. As a result, it helps to save valuable time and effort. The feeding height is 2.75", good enough for all kittens as well as cats. These cat bowls for messy eaters are the best cat bowls for messy eaters.
Moreover, every part, including the stainless steel bowls and feeder, is dishwasher safe. So, you will never sweat to clean the bowls. Another feature worth mentioning is the non-skid rubberized legs that prevent slippage or sliding when your cat eats.
Specifications:
Material: Stainless Steel
Product Dimension: 12.9" X 8.75" X 4.75"
Weight: 1.3lbs.
Target Species: Cat & Dog
The Good:
Compartments for collecting splitting foods are separated
Sliding is prevented with non-skid rubberized legs
100% dishwasher safe
Mess proof design
Saves valuable time and effort
The Bad: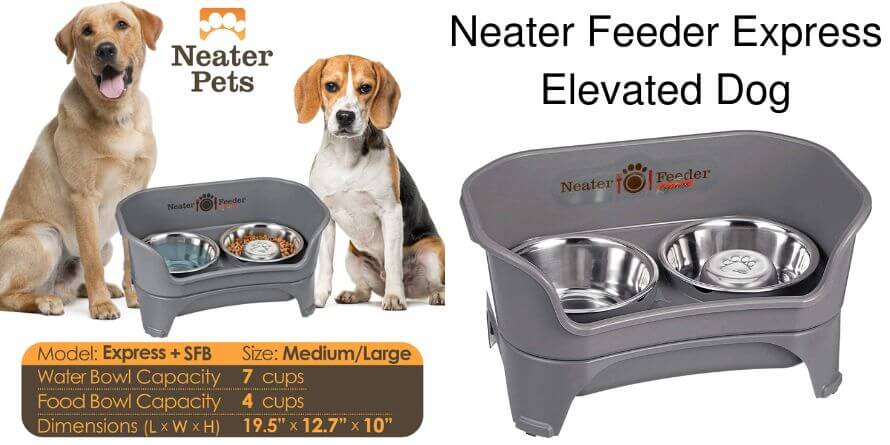 Every pet owner wants to feed their pet in food-grade and durable bowls. The FOREYY Raised Pet Bowls for Cats and Dogs is a high-quality pet bowl made of stainless steel. At the same time, it is dishwasher safe, hygienic, and rust-resistant.
Simultaneously, the stand is constructed with original bamboo, well-known for its high water resistance characteristics. Moreover, it is much more stable in its position and doesn't slip off the anti-slip feature. Due to the good enough height, your pet will easily get access to food and water.
It is designed to promote the digestive health of your pet. If your pet is experiencing neck or back problems, arthritis, megaesophagus, or susceptibility to bloat, these bowls would be the best choice to reduce these health concerns. Overall, it comes with the best quality and sturdy construction.
Specifications:
Material: Stainless Steel, Wood
Product Dimension: 15.35" X 7.48" X 3.94"
Weight: 2.49lbs.
Target Species: Cat & Dog
The Good:
Rubberized feet prevent slipping
Suitable height makes it easy to eat and drink for your pet
Made of food-grade materials
Rubberized legs protect your floors from scratch
Free from rust and effortless cleaning process with dishwasher
The Bad:
Damage can happen if not cleaned regularly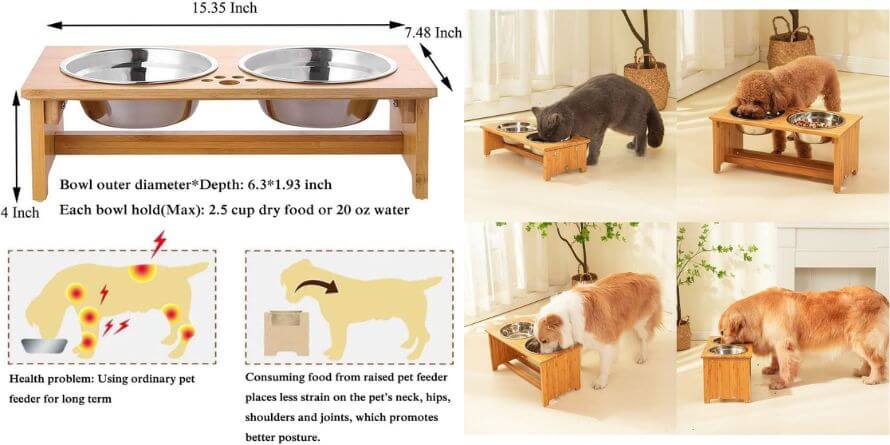 The HTB Elevated Dog Cat Food Water Bowls provide a comfortable position so that your cat can eat in a healthy way. Your adorable friend will be protected from joint and neck pressure with this elevated designed food water bowl.
It comes with two ample-sized bowls made of stainless steel. Also, the frame is solid wood and just perfect for your cat's height. The premium bowls are easy to remove for cleaning with a dishwasher. This model is available in 3 different sizes, making it the best choice for dogs and cats.
This model is sturdy enough to give years after years of service if proper maintenance is maintained. The item needs to be assembled, and the great thing is, that you can install it within a minute, taking assistance from the available screws and hex key.
Specifications:
Material: Stainless Steel, Wood
Product Dimension: 15.87" X 7.87" X 2.76"
Weight: 3.32lbs.
Target Species: Cat & Dog
The Good:
Anti-slip feet allow the whole unit to stay in position steadily
Non-leaching, durable, and easy to clean
Reduce the neck and joint pressure of your pet
Easy to assemble with the included gears
Removable premium bowls
The Bad:
Unsuitable for an aggressive eater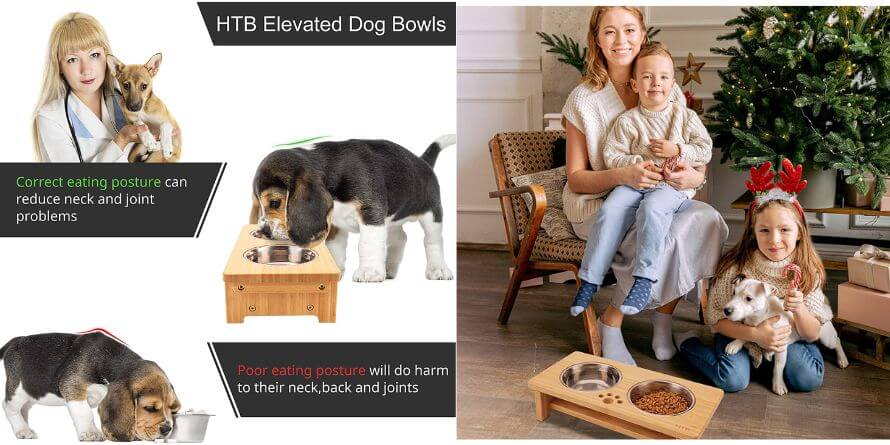 The Pawfect Pets Elevated Bowl Stand is carefully tested and designed to meet your pet's mealtime requirement. It is sturdily built and comes fully assembled, which allows you to save yourself from the hassles of assembly and avoid a wobbly feeder.
A total of 4 bowls are available with this model, so you can always have 2 clean bowls ready. Besides, silicone bowl pads prevent the bowls from spinning and making noise while your pet eats. This means your pet will not get disturbed at mealtime.
The attractive design is another satisfactory feature of these cat bowls. Due to the design, it fits with any home décor without any trouble. It helps an injured or aged pet to eat from easy-to-access height and reduces back or neck pain quite effectively.
Specifications:
Material: Stainless Steel, Wood
Product Dimension: 14.0" X 7.0" X 4.0"
Weight: 2.8lbs.
Target Species: Cat & Dog
The Good:
Mess-free design to keep the feeding area clean
2 extra bowls are included
Sturdy and gorgeous design
Designed to last for the lifetime
Water-resistant
The Bad:
The stainless steel bowls are a lot thinner than their competitors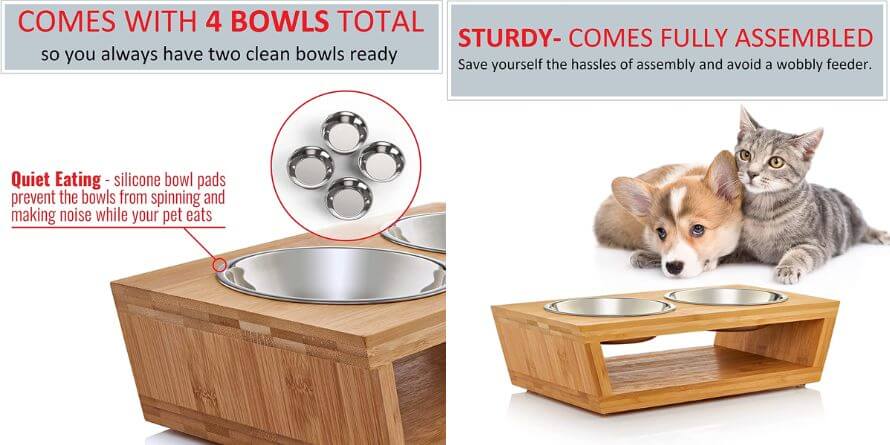 The Helping Pets Elevated Cat Bowl is a beautifully constructed food bowl that will grab the attention of every pet owner. Your pet will be able to digest the food properly when eating from these cat bowls. Additionally, each leg consists of an anti-slip guard that stops movement.
You can start using this model just after unboxing as it comes fully assembled. Also, the platform is 4.5" high which promotes neck and back pain effectively. Moreover, its beautiful design fits with your home décor quite comfortably. Your pet will surely love to eat from these bowls.
This stand is made from MDF, is of utmost sturdy, and has been sealed to protect the surface. It looks like a fancy cat feed bowl. The quality is pretty amazing. Also, it is available in 2 different sizes; if your pet is tall, you can choose the required size.
Specifications:
Material: Stainless Steel
Product Dimension: 16.0" X 10.0" X 6.0"
Weight: 2.95lbs.
Target Species: Cat & Dog
The Good:
Ensures less neck stress
It is designed to provide more comfort when your pet is having the meal
Safe for dishwashing
No assembly is required
Tested and engineered with care
The Bad:
The color wore off over time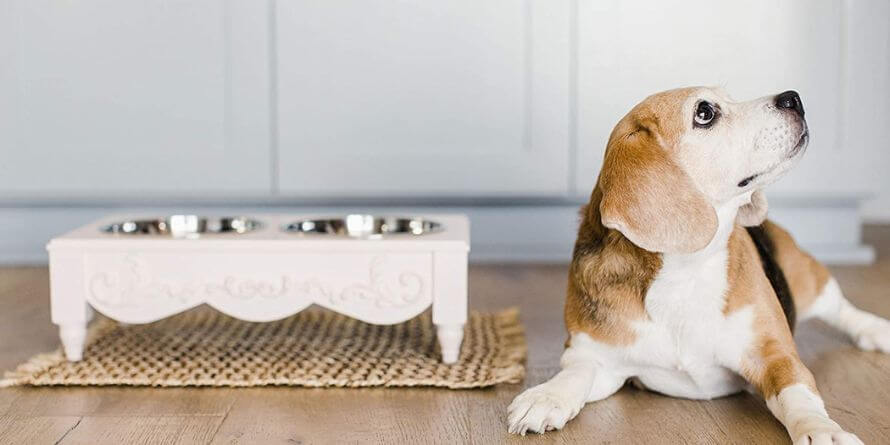 Do you own a cat and a dog,? Also, looking for an affordably priced pet feed bowl? Buy this Pawfect 7" Tall Raised Cat Feed Bowl without hesitation. It comes with 2 extra standard size bowls, which makes it suitable for both cats and dogs. It is the best cat bowl for messy eaters.
The stand is sturdy enough that it stands in its position firmly. Also, eliminate the spill of food and water when your pet eats. So, you will have a hassle-free time cleaning the feeding area. Due to the stainless steel construction of the bowl, you can clean them easily.
In addition, if you worry that the stand may get damaged if it is exposed to water when cleaning. Be noted that it comes with a water-resistance feature. It means the pet bowl is built to last for several years to come.
Specifications:
Material: Stainless Steel, Wood
Product Dimension: 17.0" X 9.0" X 7.0"
Weight: 3.0lbs.
Target Species: Cat & Dog
The Good:
Reduces neck and back problem
Carefully developed for safe use
The stands are so solid
The build quality is impressive
Perfect size for large and medium cats
The Bad:
A few customers get wobbly performance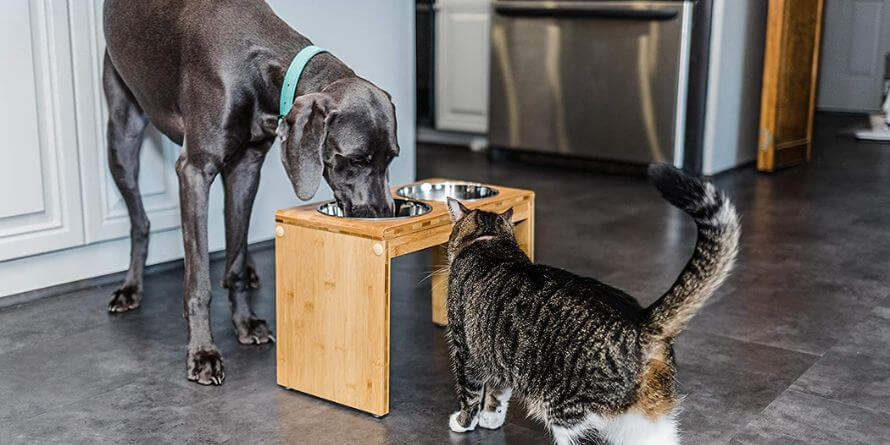 Buying Guide – How to Choose the Best Elevated Cat Bowl?
As you already understood, raised bowls for cats support the digestive system. Apart from the tilted design, some other factors need to be considered when buying a ceramic tilted cat bowl. However, best elevated tilted cat bowls Search on Amazon to see the price. Learn the considerations that we have discussed below.
Height
Appropriate height is significantly essential when choosing a cat bowl with a stand. Remember, the height must be neither too low nor too high. Since the purpose of an elevated cat bowl is to provide food and water at a good enough height to make the mealtime more comfortable, choose a bowl that is best suited for your pet's height.
Stability
Easy tip-over can happen if the stand is unstable since the elevated bowls are positioned at a height. So, to prevent tip-over, choose a model that has rubberized legs and inserts in the bowl. This way, unwanted slippage or sliding will be prevented effectively.
More importantly, the feeding area will be neat and clean. Thus, you will have to spend less time cleaning the surroundings.
Material
You have no other choice except to buy food-grade cat bowls. The used materials for cat bowls play a vital role in the characteristics of the cat feed bowls. Make sure that you have chosen safe-to-use pet bowls for your cat. At the same time, the material has to be durable and strong to serve many years of service.
In addition, no toxic chemicals should be used to finish the bowls. This will ensure that if your kitten bites or chew it accidentally, no harm will happen. The good news is modern cat bowls are made of stainless steel, ceramic and original bamboo. All of them are safe to use and 100% hygienic.
Convenience
Undoubtedly, you will not feel comfortable if your cat's bowls are challenging to lift, clean, and move. It would be best to choose a model that is easy to clean and comes with lightweight features.
Elevated Cat Bowls Good or Bad
I think it is so good and help you to reduce the chance of indigestion, vomiting, and choking. Cats love to eat by standing on the body and easy to feed them.
Why an Elevated Food Bowl?
Eating comfort varies from cat to cat. Also, all cats will not eat from the same kinds of bowls. If you own a messy eater, a whisker-friendly bowl will not be a suitable option. Buy a cat (life) bowl that collects spilled food and water for messy pets.
While elevated bowls are ideal for senior pets, and cats with neck and back problems. Also, these types of bowls offer benefits to those who face trouble eating from flat surfaces. So, know your cat's preference as well.
Are Plastic Cat Bowls Safe?
Plastic elevated cat bowls are popular among pet parents because they are durable, long-lasting, and convenient. They are available in a wide range of designs and colors. Also, plastic cat bowls are cheaper compared to stainless steel or ceramic food bowls.
However, plastic is not an eco-friendly product. Moreover, an allergic reaction can happen to some cats. Furthermore, microorganisms and bacteria can grow in plastic if it is dented or scratched. This way, an unhealthy feeding environment will be created.
But there is a huge amount of cats who are eating from plastic-made cat feed bowls and not facing any health concerns. If your cat is one of them, don't hesitate to buy plastic cat bowls. It would always be best to buy cat bowls that are right for your cat and you.
Best Cat Bowls for Messy Eaters
Why is my cat such a messy eater? These cats generally become sloppy by nature. Whensoever, they eat and they leave a toddler-style trail. It is a behavioral issue and not to worry about. Now many cat owners want to know whether the elevated cat bowls good or bad? It is absolutely good for your cat that is made of elevated stainless steel cat bowls.
FAQ about best elevated tilted cat bowls
Should cat bowls be elevated?
Elevated cat bowls are essential if your cat is older, has health concerns in the esophagus, is facing trouble bending the neck, etc. In these cases, tilted cat bowls are advised to use.
Are tilted cat bowls better for cats? elevated cat bowls good or bad
Tilted cat bowls are designed to facilitate mealtime more comfortably for your cat. Food and water easily get into your pet's stomach when elevated designed food bowls are used. These bowl types are an excellent solution for cats who have back and neck problems. They're usually satisfying elevated tilted cat bowls
What shape bowl is best for cats?
First, understand the requirements of your cat. Buying a raised cat bowl is unnecessary if your cat is happy to have the meal from non-raised and traditional food bowls. While the better eating position is promoted with elevated feeding stations.
Are bowls or plates better for cats?
It entirely depends on your cat's preference. If your cat doesn't face trouble eating from a flat surface, buy plates. In comparison, bowls are ideal for older cats and others facing different health concerns in their neck and back.
How much do elevated cat bowls cost?
Many elevated or tilted cat bowls are smart for your puppy, all of this blows affordable price so do not worry about it check here for the cheap price.
Final Note
Every pet owner loves to see a playful and active pet, and it is confirmed when your adorable friend will have healthy food with a good digestion system.
When choosing the best-elevated cat bowls, make sure to select the best-suited height for your cat. Appropriate height will ensure easy access to food and water. Since the digestion system is promoted with elevated tilted cat food bowls, your pet will remain active throughout the day.
If you are still confused about which cat bowls to buy, you can purchase the best overall product from our list.